Its been 8 years since Wall-E was released to the world. One of Disney/Pixar's finest animated movies, it raked in many awards and is considered by Time magazine to be one of the top ten movies of the decade (2000-2010). It was also incredibly important to educate the young generation on the possible final consequences of our current consumerist society: a world full of trash.
Wall-E is not Disney's first film to fall under the loose category of eco-cinema. Starting with Bambi (1942), Disney Studios challenged hunting culture. Even with it's most recent release, Finding Dory (2016), Disney challenges the concept of keeping marine life in captivity, at aquariums and rehabilitation centers. It also challenged the accepted act of collecting fish out of the oceans, whether for aquariums or for consumption (think about the net scene at the end) in Finding Nemo (2003).
B. Thevenin, who wrote "Princess Mononoke and beyond: New nature narratives of children", views Wall-E as a "dystopian societ[y] in which humans have ravaged the Earth in search of resources and are now struggling to regain an environmental conscience and revive the natural world" (2013). Wall-E does more than challenge our consumerism in the environmental sense, but also in a social sense as well. In space, humans interact with their projected screens on their roaming chairs, not each other. They also have become incredibly obese and barely able to walk. Thevenin also states that "these narratives acknowledge the immediate threat that issues like global warming pose and even seem to take for granted humanity's inability to adequately address these problems (at least until after a global catastrophe)."
Some are concerned that Wall-E may send a message that humans will get a second chance on Earth after filling it with trash, giving up, and walking away, that we can rebound as a society. And while, with future technology, we very well maybe able to do this, some argue that we shouldn't be promoting a message that allows for children to think that maybe walking away and coming back in a thousand years is the answer.
Disney has been known to promote stories which all "work out in the end". In some ways, this is beneficial to childrens' grasp of environmentalism. The term "ecophobia" is growing notoriety for environmental interpreters as they become aware that introducing children to the "doom and gloom" of our world's problems early on can cause a desensitization later on. This is where Disney is doing right. It is teaching children an appreciation for our earth and its resources, without over whelming them with "the world is ending" messages. The complexities of humans returning to earth aren't directly answered, but there is a commitment that is exhibited to renew it. It is said clearly in Murray and Heumann (2011):
"In WALL-E, questions regarding [environmental] conflicts remain unanswered. In a nod to the environmental contexts to which they respond, the conflicts remain too complex for a simple solution. Instead, the film draws on both human and organismic approaches to ecology and offers a resolution that requires an ongoing commitment to conservation and interdependence."
If we hold onto this message of ongoing commitment to environmental preservation, then perhaps that acknowledges the attempts of the film-makers of Wall-E and other eco-cinema film makers who are trying to make the world a better place, one family movie at a time.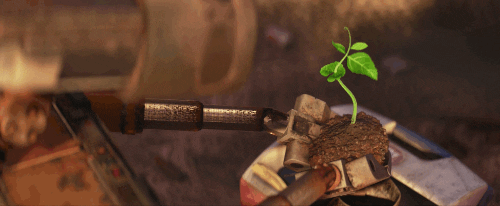 Sources Cited:
Murray, R. and Heumann, J. (2011), That's all Folks: Ecocritical Readings of American Animated Features, Lincoln: University of Nebraska Press.
Thevenin, B. (2013), 'Princess Mononoke and beyond: New nature narratives for children', Interactions: Studies in Communication & Culture 4: 2, pp. 147–170, doi: 10.1386/iscc.4.2.147_1